THE SEX-STARVED WIFE: WHAT TO DO WHEN HE LOSES DESIRE
BY MICHELE WEINER DAVIS
"Not tonight, dear." It's a familiar joke and popular wisdom: wives feign "headaches" for relief from husbands with voracious libidos and one-track minds. After almost three decades of working with couples, Michele Weiner Davis knows what really goes on behind closed doors. In her last bestseller, The Sex-Starved Marriage, she shed light on the widespread problem of "desire discrepancy" – and the fact that the partner who wants less sex isn't always the wife. Hailed as a "cultural sensation" (Atlantic Monthly), her book hit a nerve. Davis was overwhelmed by the reaction from women desperate to understand why their husband no longer cared about making love to them.
In her highly anticipated follow-up, THE SEX-STARVED WIFE: What to Do When He's Lost Desire (Simon & Schuster; January 2009; $14.00 Softcover), Davis assures every frustrated, aching woman that her situation is not unique – and her feelings are normal. "Believe it or not, there are millions of men who, for a variety of reasons, just aren't in the mood," the author attests. "In fact, I'm convinced that low sexual desire in men is America's best-kept secret."
Struck by the scarcity of research on this sensitive subject, Davis decided to tap the best source on men's sexual desire: women. She teamed up with Redbook and conducted a survey. From the responses, it became clear that the majority of women want a fulfilling physical relationship with their husband. Yet, women tend to shy away from initiating sex and have trouble getting men to talk about their lack of desire, let alone get help for it. In THE SEX-STARVED WIFE, Davis urges women to stop blaming themselves for their man's low libido and start focusing on motivating and guiding him toward mutually satisfying solutions.
Talking straight to every woman, Davis explains the reasons why men say no – biological, personal, and relationship-related – and then empowers her to do something about it. Filled with innovative ideas, practical steps, and engaging case studies drawn from the author's counseling experience, THE SEX-STARVED WIFE covers:
Opening

your man's mind to boosting his sexual desire, without crushing his ego, and developing concrete, solution-oriented goals.

Effective treatments

– drugs, surgery, and alternatives – for low testosterone, erectile dysfunction, and other common sexual problems with a biological cause.

Recognizing

how troubling issues like depression, poor body image, job loss, stress, and a midlife crisis take a toll on desire – and helping your guy cope.

Working

out sexual differences together, with a commitment to focusing on your husband's strengths and being willing to listen and try what turns him on.

Sustaining

the gains and keeping the passion kindled by regularly scheduling time for intimacy and reviewing what has changed and what works.
In what she hopes will be "the world's least-read chapter," Davis offers a list of emergency measures for women to turn to when their man resists all efforts to increase his sexual participation and pleasure. She also devotes a chapter to raising awareness of behaviors that may not indicate a husband's lack of sexual interest, but can destroy a marriage, including a preoccupation with self-sex, excessive use of the Internet for pornography or cybersex, and actual infidelity.
By daring to tell the truth about low sexual desire in men, THE SEX-STARVED WIFE leads the way to ending the shame for men who suffer, along with the pain for the women who love them. Affirming every woman as worthy of being wanted, Michele Weiner Davis reveals sex as a wonderful force for making a loving, lasting relationship more fulfilling for both wives and husbands.
THE SEX-STARVED WIFE
Simon & Schuster See Michele on tour
January 2009
Softcover; Price: $14.00
ISBN-10: 0-7432-6627-7
ISBN-13: 978-0-7432-6627-7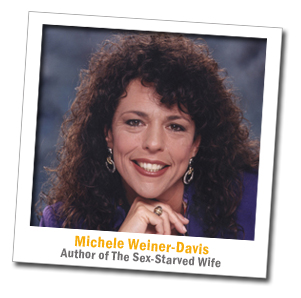 Michele Weiner Davis, MSW
is an internationally renowned relationship expert and the author of seven books, including the bestsellers The Sex-Starved Marriage and Divorce Busting. She regularly appears on The Oprah Winfrey Show, The Today Show and 48 Hours, among many national television programs, and her work has been featured in major magazines and newspapers from Redbook and Cosmopolitan to The New York Times and Wall Street Journal. A highly-sought after speaker and seminar leader, she is also a practicing marriage therapist and director of The Divorce Busting® Center with offices in Boulder, Colorado and Woodstock, Illinois.
If you'd like to schedule an interview with Michele Weiner Davis, please call 303-444-7004 or email virginia@divorcebusting.com